11 Dec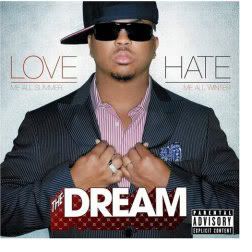 GRADE: A–
Terius "The Dream" Nash has proven himself to be a more than competent songwriter by penning number one hits for Rhianna, Madonna, J. Holiday and Britney Spears. Like fellow songwriter Ne-Yo, Nash has decided to parley his industry status into a singing career with the release of his solo debut LoveHate.
It should come as no surprise that the songwriting and production on LoveHate is excellent. In fact, Dream's witty and lavish compositions make it easy to overlook his substandard singing ability. Thankfully, most of the album is upbeat, catchy and doesn't require too much vocally. In the same way that Justin Timberlake did in 2006, Dream channels the musical spirits of 80's icons like Prince and Michael Jackson ("Fast Car," "Purple Kisses"). The few ballads on the album do drag a bit, but the project is overall very likable.
The album is not without it's flaws. The "every song could be a single" format works well for Dream, but some of the tracks are just too ambitious. "Falsetto" is one of the album's (and possibly the year's) stand out songs, but it only highlights The Dream's vocal shortcomings. It's so good that you almost wish he would have given it to Usher, Ginuwine, Maxwell or Mario.
For years, female vocalists like Ciara, Britney Spears and Ashanti have been able to release huge records with less-than-perfect singing voices. With the release of LoveHate, The Dream aims to trump all of their efforts with one incredible album. In that way, he has hit a home run. After all, didn't you always want a GOOD album that you could sing along to without feeling like you were hitting all the wrong notes?